Covid-19 Protocols
The Graceland team has been serving the neighbourhood community since 2007. We "do life" in this neighbourhood and we love it. Because we love it, we are concerned for our community's emotional, physical and spiritual health. We hope that classes at Graceland and participation in Sequoia will help to build spiritual health and strengthen emotional resilience. Now, we have put some protocols in place to help protect your physical health. We are not trying to make a political statement, nor are we trying to exclude anyone. In fact, these protocols are in place to provide the maximum number of people with the opportunity to experience the Graceland community. The following protocols will be NON-NEGOTIABLE for the Graceland team and students as well as guests and visitors.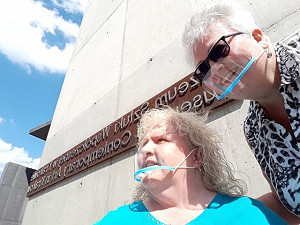 Face Shields
Every student and team member will be issued a personal face shield which covers the nose and mouth. After testing a number of face coverings, this one seems best for FACE-to-FACE instruction because it allows us to see each other's mouths which is critical in language learning. If a student forgets to bring their face shield to class with them, they can purchase another for 10 złoty. Students will not be permitted in classrooms without a face shield.
Sanitizing
There will be sanitizers around the school and in classrooms. Each table and chair will be sanitized after every class. Bathroom fixtures, coat racks and classroom door handles will also be sanitized between classes.
There will be a designated coat rack for each area of the school, please use the coat rack designated for your classroom.
Cohorts
Although it is important to us to create a community atmosphere at Graceland, after the first information evening, classes will become cohorts and will not be mixing with other classes, limiting exposure to a broad group of students.
Materials
Students will be given their materials as usual (workbooks, textbooks where needed and face shields.) Regretfully, students will no longer be able to leave their personal belongings such as notebooks and novels at Graceland. Each student must take all their personal belongings with them after each class. Likewise, students who FORGET their books, will not be able to "borrow" a book for the class. Every student must have their books with them each class. Students will also need to provide their own pens and highlighters as well as reading glasses as we will be unable to "share" common items until further notice.
Office and Payments
Only one student, or related family will be permitted in the administrative office. Please wait patiently for your turn to go into the office. We kindly request that all payments be made by bank transfer.
Virtual Discussion Partners
Graceland loves North American guests, but we will not be hosting guests this semester. In an effort to "keep things as normal as possible," we will be experimenting with virtual guests during class. More details on this will be available in class.
The Graceland Café
The café will serve your favourite beverages as usual. Sanitizing protocols have ALWAYS been in place in the café and will continue.
Illnesses
If a student has a cough or fever, we kindly ask you to stay home. Students who arrive at Graceland with a persistent cough will be asked to leave.
We trust these protocols will put your mind at ease and allow you to experience the school with soul.